Keynote Speakers
---
Wednesday, 26 September
Giuseppe Macino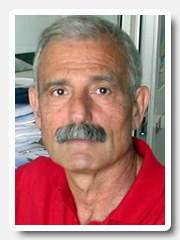 Giuseppe Macino received his Degree in Chemistry from the University of Rome "La Sapienza" in 1971. He was a post doctoral fellow at Columbia University, New York in the late seventies. He is Member of the European Molecular Biology Organization and of Human Frontier Science Program Organization. He established his first group in Fungal Molecular Biology at the University of Rome "La Sapienza" at the Dept of Cell Biology. In 1986 he joined the Dept of Cellular Biotechnology and Hematology as Professor of Cell Biology. Giuseppe Macino's main interests are related to Fungal Biology, to the role of blue light in regulation of gene expression and control of the circadian rhythm. In the nineties he discovered the mechanism of gene silencing in fungi and its defense role against transposons and viruses. Macino's group gave an important contribution to the comprehension of the molecular mechanism of RNA interference using molecular and genetic approaches. Recently he is working on the role of MicroRNA in Human pathology.
Thursday, 27 September
Justine Collier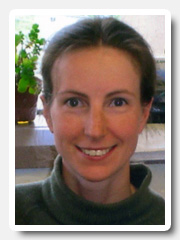 Justine Collier studied Molecular and Cellular Biology at Paris-Sud University in France, and received her Ph.D in 2004. She is now a postdoctoral fellow in the Department of Developmental Biology at Stanford University in the United-States. This Department is highly interdisciplinary and explores cellular and organismal regulatory mechanisms in very diverse systems, from bacteria to mice. Justine Collier joined Pr. Lucy Shapiro's laboratory. One of the principal goals of this laboratory is to define the genetic network that controls DNA replication and chromosome segregation as integral components of the bacterial cell cycle. In the differentiating bacterium Caulobacter crescentus, these events are readily accessible to study. The laboratory has identified factors that control DNA synthesis and chromosome movement, and defines how these factors use both temporal and spatial organization to coordinate cell cycle events in C. crescentus. Justine Collier's work shows that epigenetic mechanisms of regulation coordinate the progression of DNA replication with other cell cycle events in C. crescentus.
Saturday, 29 September
Wolf Reik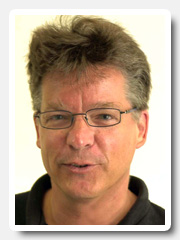 Wolf Reik is Associate Director of Research and Head of the Laboratory of Developmental Genetics and Imprinting at the Babraham Institute in Cambridge. After receiving his MD from the Universities of Freiburg and Hamburg in Germany, he went on to study for his postgraduate degree with Rudolf Jaenisch (on retroviruses, epigenetics, DNA methylation) before undertaking postdoctoral work with Azim Surani (on genomic imprinting) in Cambridge as an EMBO Fellow. He was a Fellow of the Lister Institute of Preventive Medicine, and headed the Programme of Developmental Genetics at the Babraham Institute before taking up his current post as Associate Director of the Institute. Wolf Reik's research interest is in genomic imprinting and in epigenetic mechanisms of gene regulation in early embryos, germ cells, and stem cells, and in particular in the role of epigenetic reprogramming in stem cell plasticity. He has published more than 140 research papers, and received a number of prizes and distinctions for his work, including the Wellcome Prize of Physiology. He is an elected member of EMBO and a Fellow of the Academy of Medical Sciences. He serves on several national and international academic boards including the Cancer Research UK Programmes Committee, the BBSRC Strategy Panel, the Medical Research Council Cross Board Group, and the UK Government's Foresight panel. He is a member of the editorial board of several academic journals and of Faculty 1000 Biology. He also sits on the Executive Board of The Epigenome EU Network of Excellence, the scientific advisory boards of Epigenomics AG Berlin and Seattle, and Proteus Venture Partners Stanford, and is a consultant to CellCentric Inc, Cambridge.
Main Speakers
---
Wednesday, 26 September
David Baulcombe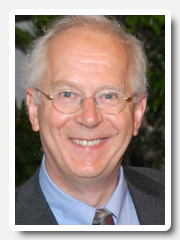 David Baulcombe works on RNA-silencing systems that protect against viruses and mobile elements of DNA. His group has identified many components of the RNA silencing machinery and a key discovery was the short RNAs that are the specificity determinant. David Baulcombe's work in this area has emphasised the importance of plants as model systems for basic biology because his findings are relevant to RNA interference in animals. His recent interests have focussed on RNA silencing and its effects on growth, development and evolution in addition to roles in defense. He has described short silencing RNA as the "dark matter of genetics" because its is analogous to the invisible mass in outer space: it is abundant and influences the properties of the genetic universe. The recent work in David's group embraces a systems level analysis of RNA silencing and its influences – direct or indirect – on gene expression. Most of his work involves Arabidopsis but he has started to explore the role of RNA silencing in a crop plant (tomato) and in a unicellular alga (Chlamydomonas) David's career started as an undergraduate in Harold Woolhouse's department at Leeds University and until September 07 he was a senior research scientist in the Sainsbury Laboratory, Norwich. After then he will be Professor of Botany at Cambridge University. In the early part of his career he did a PhD in Edinburgh, postdoc stints in Montreal and Athens (Georgia), and he was a project leader at the privatised (sadly) and now defunct Plant Breeding Institute in Cambridge. He is now a Fellow of the Royal Society and a foreign associate member of the US National Academy of Sciences. When not in the lab he enjoys sailing, hill walking, music and Italian food.
Wednesday, 26 September
Alessandro Fatica
Alessandro Fatica received his M.S. in Biological Science from the University of Rome "La Sapienza" in 1995 and a Ph.D from the same University in 1998. From 1998 to 2000 he was a postdoctoral fellow at the Department of Genetics and Molecular Biology, University of Rome "La Sapienza". From 2000 to 2003 he moved to the Wellcome-Trust Centre for Cell Biology, University of Edinburgh (UK) first as a recipient of an EMBO Long Term Fellowship then as Wellcome-Trust Assistant Researcher. In 2003 he joined the group of Prof. Irene Bozzoni as University Researcher at the Department of Genetics and Molecular Biology, University of Rome "La Sapienza". Alessandro Fatica's present research activities are related to the biosynthesis and function of microRNAs. These molecules control gene reprogramming occurring during development and cell differentiation by regulating translation and stability of specific target mRNAs. In particular, he is interested in identifying the regulatory regions required for their expression and to study their role in the control of cell differentiation with specific interest in hematopoiesis.
Wednesday, 26 September
Valerio Orlando
Valerio Orlando obtained his degree in Molecular Biology at University "La Sapienza" in Rome defending a thesis on the relationship between looped organization and origins of replication in eukaryotes. He was postdoc in the lab of Renato Paro in Heidelberg at the Center for Molecular Biology (ZMBH) where he studied the role of chromatin and epigenetic silencing in homeotic gene regulation. During that time, he elaborated the chromatin immunoprecipitation (ChIP) technology and by that he was first to describe the in vivo binding pattern of Polycomb proteins over large genomic regions, anticipating the basic concepts of contemporary ChIP-CHIP technology. He started his independent career by establishing the Chromatin and Epigenetics group at Dibit HSR in Milan (1997-2001). Later, he became Associate Telethon Scientist as part of Telethon Foundation career program, the Dulbecco Telethon Institute (DTI). Therefore, he moved to Naples where he is currently leading the DTI laboratory of Epigenetics and Genome Reprogramming at Institute of Genetics and Biophysics CNR. He is member of the European Molecular Biology Organization (EMBO) and President of the Italian Society of Biophysics and Molecular Biology (SIBBM). His lab discovered unexpected structural configurations and plasticity of Polycomb controlled gene promoters and described the role of condensins complexes in epigenetic silencing. More recently, the interests of his lab expanded to the role of higher order structures, RNAi and noncoding RNA in epigenetic control of cell fate and genome reprogramming.
Thursday, 27 September
Marco Bianchi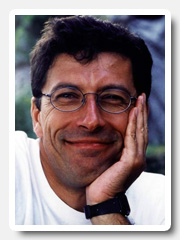 Marco E. Bianchi is Professor of Molecular Biology at San Raffaele University, Milan, and founder of HMGBiotech srl, a biotechnology start-up company (http://www.hmgbiotech.com). He obtained his Laurea Degree in Biology at the University of Milan (Italy) in 1980, with a thesis in yeast genetics. He then did postdoctoral work at Yale University Medical School on the biochemistry of DNA recombination performed by recA protein, and worked as a staff scientist at the EMBL in the late '80s. At that time he started his work on HMGB1 (High Mobility Group Box 1), an abundant nuclear protein that he recognized as the first structure-specific DNA binding protein. This work has continued for almost 20 years at the Universities of Pavia, Milan and San Raffaele. HMGB1 is as old as sponges, and is essential in mammals. It is recruited by many sequence-specific DNA-binding proteins to bend DNA, and to facilitate transcription, replication, recombination and repair. More recently, it has become clear that HMGB1 is released by cells that die accidentally, but is retained by cells that kill themselves through apoptosis. Cells have at least 5 receptors for HMGB1, and therefore become alerted to the untimely demise of their neighbours, and to tissue damage caused by trauma or by infection. The responses to the presence of extracellular HMGB1 include inflammation, activation of innate and adaptive immunity, and the recruitment of stem cells to repair the damaged tissue. Sometimes, the responses to extracellular HMGB1 are excessive, and the whole organism can damage itself to death (as is the case in sepsis), or individual organs can develop degenerative diseases (for example rheumatoid arthritis, systemic lupus erythematosus, atherosclerosis and some cancers).
Thursday, 27 September
Peter Fraser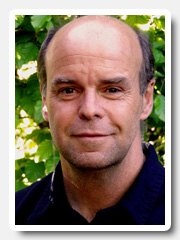 Peter Fraser trained at the Wistar Institute in Philadelphia and received his PhD in Molecular Biology from the University of Pennsylvania in 1988. He was an NIH postdoctoral fellow at the MRC National Institute for Medical Research in Mill Hill London, before setting up his own research group at Erasmus University Medical Center, Rotterdam in 1993. He became a Senior Fellow of the Medical Research Council in 1999 and moved to the Babraham Institute in Cambridge to become Head of the Laboratory of Chromatin and Gene Expression. Peter's main interests are in understanding transcriptional regulation of gene expression in mammals. His group pioneered techniques to investigate higher-order chromatin interactions and was first to show that long-range transcriptional enhancers directly contact their target genes through formation of large chromatin loops in vivo. His recent work is focussed on long-range intra- and inter-chromosomal interactions between multiple genes in RNA polymerase II-enriched, sub-nuclear compartments known as transcription factories. Of key importance was the discovery that all genes, and their associated regulatory elements must migrate to these limited sites to be transcribed, with functional implications for genome-wide coordinate gene control, tissue-specific nuclear organization of the genome and the genesis of cancers.
Thursday, 27 September
Maria Matarazzo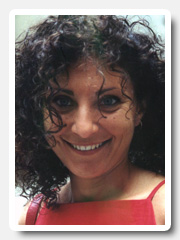 Maria Rosaria Matarazzo received her degree at the University of Naples Federico II in 1996, and a Ph.D. in Biochemistry and Molecular Biology from the same University in 2001. During her PhD she worked in Dr. Robert Feil's lab, at the Babraham Institute in Cambridge, thanks to an EMBO short term fellowship. Since 2002 she is Researcher at the Institute of Genetics and Biophysics, ABT CNR, in Naples, joining the group of Dr. Maurizio D'Esposito, studying the role of epigenetic mechanisms in X and Y inactivation of Pseudoautosomal region 2 (PAR2) genes of human sex chromosomes. Starting from its identification and the analysis of the unexpected allele-specific expression of its genes, Dr. Matarazzo has used this human genomic region as a model for understanding the mutual relationships between multiple layers of epigenetic regulation. She approached this issue exploiting human pathologies with altered DNA methylation, such as ICF syndrome, and looking at the impact of this defect on other epigenetic modifications. Maria Matarazzo's recent interests are related to the involvement of chromosome territory organization in allele-specific silencing. In particular, she is focusing her attention on the interplay between DNA methylation and the higher-order level of chromatin structure. To this aim she spent eight months in Dr. Wendy Bickmore's lab at MRC, Human Genetics Unit in Edinburgh, showing the first report of altered chromosome territory organisation in a human genetic disease.
Thursday, 27 September
Marcel Méchali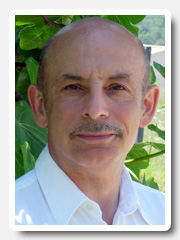 Marcel Méchali received his PhD from the University of Paris and was a post doc at the MRC Laboratory of Molecular Biology at Cambridge (UK), before setting up his own group at the Institut Jacques Monod in Paris. He then mooved to the Institute of Human Genetics in 1998, and directed this institute for 4 years. M. Méchali is a member of the French Academy of Sciences. His laboratory first revealed the role of c-myc and p53 in the control of early Xenopus development. His group also unveiled specific features of chromatin and chromosome domains explaining the regulation of transcription during early Xenopus development. Several important discoveries of this group concern DNA replication. His laboratory showed that DNA replication origins are developmentally regulated and linked to gene expression. It demonstrated a crucial role of mitosis in reprogramming chromatin domains and replicon organization during development. His group also discovered new factors involved in DNA replication including Cdt1 and MCM8, and revealed the role of the Cdt1-geminin complex in the control of origin firing.
Saturday, 29 September
Gianni Cesareni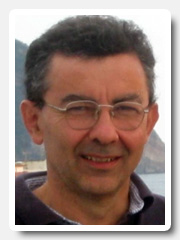 Gianni Cesareni obtained a degree in Physics at the University of Rome "La Sapienza" in 1973. After a three year post doc at the LMB of the MRC in Cambridge, he became a group leader at the European Molecular Biology Laboratory in Heidelberg. His main contribution is the elucidation of the mechanism underlying control of ColE1 plasmid replication. This work represents the first demonstration of a control circuit based on the interaction of two complementary RNAs, and is used as a paradigm for a variety of recently discovered mechanisms that are also based on the interaction between RNAs. Furthermore, this work contributed to the discovery of the Rop protein that catalyses the hybridization between the two regulatory RNAs. More recently, after moving to the University of Rome "Tor Vergata", the Cesareni group has focused on protein interactions mediated by families of protein recognition modules and on experimental and computational analysis of protein interaction networks. The group is also responsible for maintaining MINT (http://mint.bio.uniroma2.it/mint) a protein interaction database.
Saturday, 29 September
Fabio Fiorani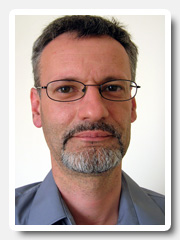 Fabio Fiorani received his bachelor degree in Agricultural Sciences from the University of Milan in 1997, and his PhD in Plant Ecophysiology from Utrecht University, The Netherlands in 2001. During his PhD he studied the interplay of cell division and cell expansion in developing leaves of grass species. He was post-doctoral fellow at Duke University, NC, USA where he investigated the role of the mitochondrial alternative oxidase in plant growth and in the tolerance to abiotic stresses. Since 2003 he works at the Department of Plant Systems Biology at VIB-UGent, Belgium. He received a Marie Curie EU fellowship for a project focused on the discovery of corn leaf genes conferring tolerance to drought stress. Currently he is project manager of the EU-funded integrated project AGRON-OMICS (www.agron-omics.eu) spearheading integrative biology of leaf growth in the model species Arabidopsis thaliana. His research expertises include quantitative analysis of plant phenotypes, the cellular basis of plant organ growth, and plant responses to growth-limiting abiotic factors.
Saturday, 29 September
Eileen Furlong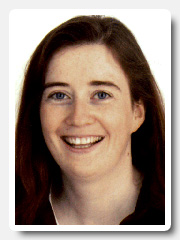 Eileen Furlong received her B.Sc. at University College Dublin, and a Ph.D. in gene regulation at Bio-Research Ireland, Univ. College Dublin. She was a post-doctoral fellow at Stanford University, California. She established her group at the European Molecular Biology Laboratory, Heidelberg, (EMBL) in October 2002. EMBL's mission is to support diverse areas of basic research ranging from subcellular complexes to cell and developmental biology, necessitating cutting edge interdisciplinary and computational approaches. Eileen's main interest is in gene regulatory networks and how the underlying logics govern complex cell fate decisions. She developed a number of technologies to facilitate Functional Genomics in the model organism Drosophila: A machine that can automatically sort transgenic embryos based on fluorescent markers, and in collaboration with 5 other colleagues, they produced the first Drosophila microarrays. The Furlong group has optimised a sensitive protocol for Chromatin-immunoprecipitation experiments (ChIP-on-chip) within the context of whole embryos and developed software to integrate ChIP-on-chip data with diverse types of expression data (CoCo). With these tools in hand the group has constructed a global transcriptional network during consecutive stages of embryonic development, with particular emphasis on mesoderm specification. Temporal ChIP-on-chip experiments identified dynamic enhancer occupancy, revealing an additional layer of complexity inherent in developmental networks. The group is using the overall topology of the network to make predictions about the functions of different subroutines and nodes with respect to cell fate decisions.
Saturday, 29 September
Giulio Superti-Furga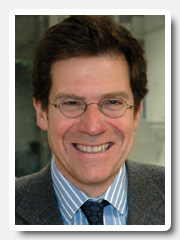 Giulio Superti-Furga, Ph.D., is Scientific Director and CEO of the Research Center of Molecular Medicine of the Austrian Academy of Sciences (www.cemm.at) and Visiting Professor at the Medical University of Vienna. An Italian national, Giulio Superti-Furga performed his undergraduate and graduate studies in molecular biology at the University of Zurich, at Genentech Inc. and at the Institute for Molecular Pathology in Vienna (I.M.P.). He has been a post-doctoral fellow and Team Leader at the European Molecular Biology Laboratory (EMBL) until 2004. For several years he has served as visiting professor of Biotechnology at the University of Bologna. In 2000, he co-founded the biotech company Cellzome Inc., where he has been Scientific Director and responsible for the Heidelberg research site. His most significant scientific contributions are the elucidation of basic regulatory mechanisms of tyrosine kinases in human cancers and the discovery of fundamental organization principles of the proteome of higher organisms. Biology relies on the concerted action of a number of molecular interactions of gene products and metabolites operationally organized in molecular machines, molecular pathways and in yet larger molecular networks. Currently, Superti-Furga and his team are interested in: (i) the principles behind these supermolecular organisation levels (whole proteome organisation, prototypic pathways, selected complexes and molecular machines), (ii) the study of molecular context, pathways and networks to understand specific human pathologies and guide novel diagnostic and therapeutic initiatives, (iii) the elucidation and prediction of the molecular mechanism of action of known and novel therapeutics using post-genomic approaches.